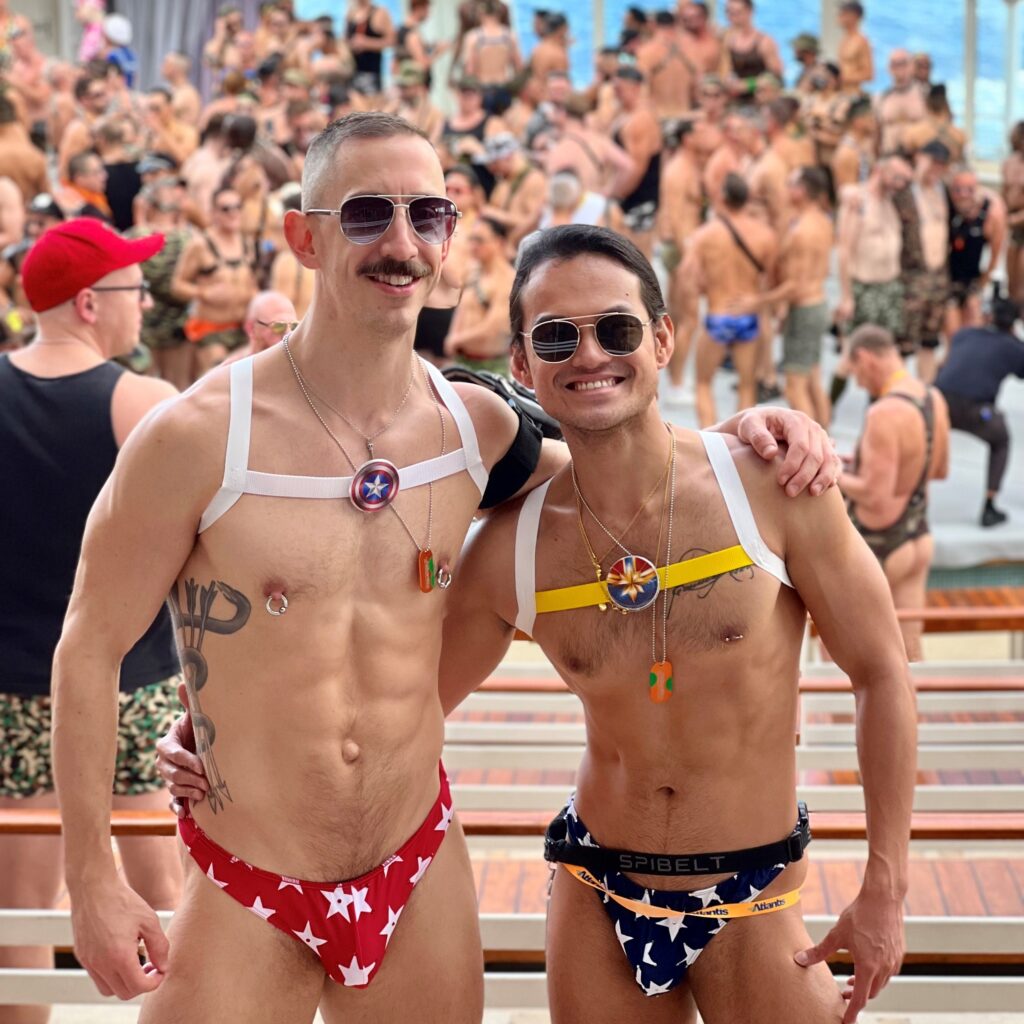 While I may only have one Atlantis Cruise under my belt after attending my first one last year, I am the type of person who likes to plan and know what to expect before embarking on a week-long vacation. I was never able to find comprehensive resources to answer my questions, so this year I thought it would be a great idea to take to social media to ask new cruise-goers about their burning questions. With the 2023 Harmony of the Seas Caribbean Cruise fast approaching, I compiled my TOP 5 learnings from last year to consider before, during, and after the cruise.
1) BEFORE YOU BOARD
Do you have a valid passport? Prior to boarding you will be required to check in through Royal Caribbean's website or app, where they will require certain travel documents. The most important detail to note is that

your passport must be valid at least 6 months after your cruise ends

. U.S.-born citizens also have the option to use their U.S. state-issued Birth Certificate for sailings that depart from U.S. ports. Last year my passport expired on my birthday in January, which required me to apply for a new book. Please learn from my mistake.
Don't forget your medication! It should go without saying that you should always pack extra prescriptions for a buffer period in the event of unforeseen travel delays. Carrying them in their RX containers is typically recommended as you'll have proof that the medication is yours. Additionally, if you suffer from motion sickness, reach out to your primary care physician so they may prescribe the appropriate medication to alleviate your symptoms. Over-the-counter medication, like Dramamine, works for most people but it did not do it for me on the cruise. Fortunately, Guest Services provided complimentary motion sickness pills that worked well, but it's better to be prepared than suffering.
Are bathroom shower shots compatible onboard? Yes, most bathroom shower shots are compatible with the showers onboard and can generally be attached by hand. It should be noted that the metal and associated accessories can sometimes set off the scanners, so be aware of that, or use a plastic hose.
What clothes should I pack? For my first cruise, I wanted to attend every tea dance and evening party to determine which ones I liked, and if I should forego any in the future. My friends recommended I pack the same clothes I would to any party weekend, but instead I recommend first considering the environments you want to find yourself in. Aside from the parties, I primarily ventured into the Windjammer's buffet where it was required that you cover your top and bottom. That being said, I rotated between three tank tops and two pairs of shorts the entire week, and completely ignored a suitcase full of other casual outfits. If you're incline to see shows, go to fine dining, etc., then you can plan to pack for that experience.
How do I plan for party outfits? I'm sure this is at the top of everyone's mind, and I'll be covering how we planned ours in a future post, but I'll stick to the basics. The party themes rotate every year, and you can always expect certain staples: uniform/military for Dog Tag Tea Dance, the first party onboard, neon, disco, and white party. While they don't release the remaining themes until a month prior to the cruise, most people already have options from the various parties they attend throughout the year. I recommend building up your collection so that you can mix and match according to the announced themes, making it easier to style and accessorize.



Most importantly: less is more. As a cosplayer who occasionally and casually does drag, I tend to go all out for my outfits. While they are certainly people who still put forth such effort on the cruise, I found that I prefer ease of movement while dancing. Last year I took my photos in the grander outfits I created, stayed in them for the first hour, then returned to my room to change into something more comfortable albeit out of theme. This year I've decided to prioritize effective simplicity by styling around a fun accessory or centerpiece. Do you want to carry a prop all night or constantly hit others with your giant angel wings as you wade through a crowd? If you want to go big, the tea dances provide the best outlet to pull out the big guns. Your outfit will be better appreciated in the daylight where people can more clearly see you than in the dark.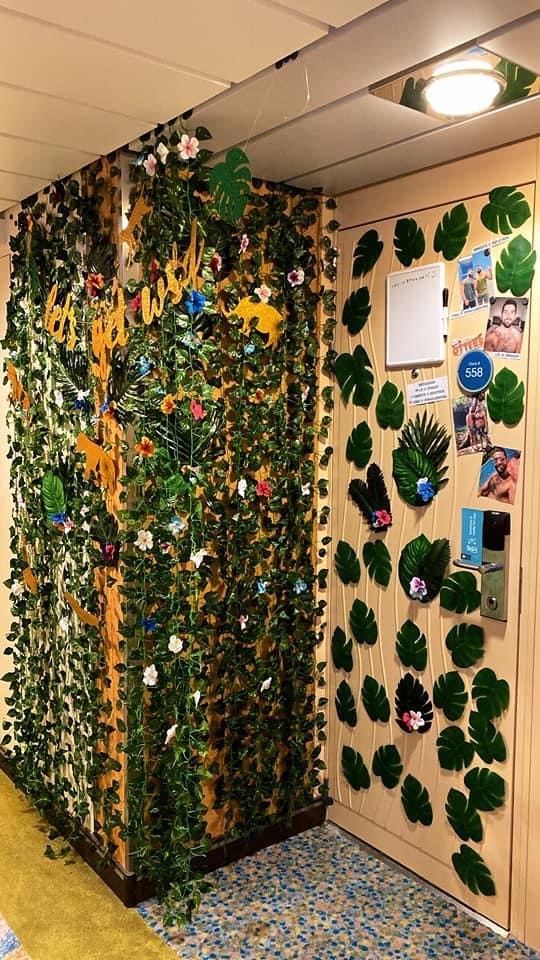 Should I decorate my door? The cabin door and adjacent wall are magnetic, which make them the perfection place to mount decorations. People get really creative and coordinate with their neighbors and hall mates, but the most important thing to consider is making it known that this is your home base. We put up pictures of ourselves and friends, with a large decal of our names to easily identify us, as well as other fun trinkets that show off your personality. Unlike your party outfits, this is the time to go big and wild!
What are cruise cards? Whether physical, virtual, or both, cruise cards are another great identifier. We had both last year to give to people we met, and used one as our phone background in the likely event that we lost our phones. With your face, name, and cabin number on the lock screen, your phone can be easily returned to you. Additionally, using a QR code is a great way to share your contact information and social media profiles. Create your own cruise card wallpaper here!
2) PLANNING YOUR DAYS ONBOARD
Be kind and generous to your cabin stewards, bartenders, and crew members. The crew members are some of the sweetest, most hospitable people you will ever meet, and they go out of their way to make your experience the best it can be. The prepaid tip is pooled and divided amongst the staff, and bartenders don't receive any tips on drink tickets, so we brought extra cash for them. A thank you card and tip for your room steward goes a long way, especially if you require additional cleaning services, towels, ice, etc. As a former bartender and waiter, I always appreciated when patrons tipped and would treat them in kind if they returned to my bar.
The Royal Caribbean app is a wealth of information. A physical daily brochure will be brought to your door every morning outlining the events throughout the day. The app provides the same information so you never miss a beat, and provides a great map of all the bars, restaurants, and other amenities, while also noting which are complimentary or a premium service.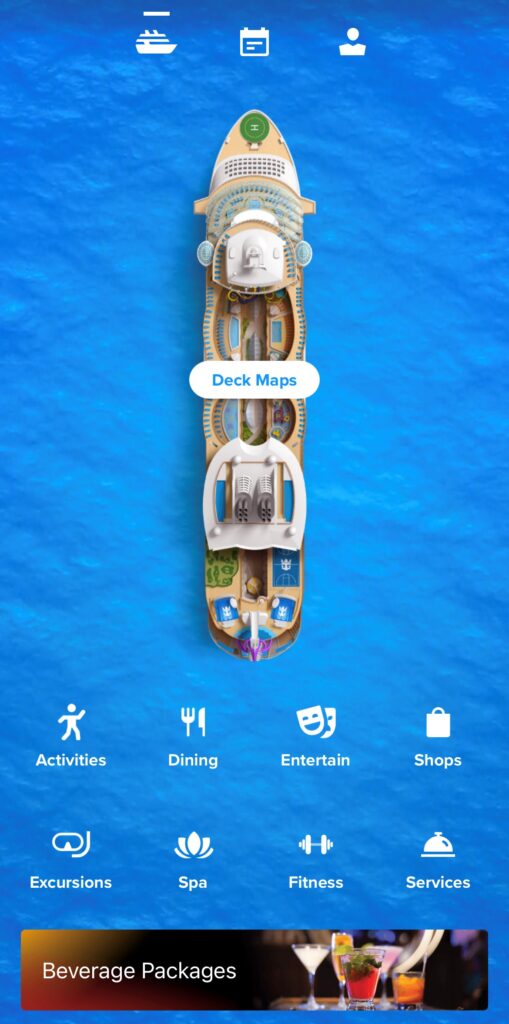 Is it difficult to sleep onboard? After a full day out in the sun, or meeting and socializing with friends new and old, you'll be happy to return to your cabin to reset. We did our share of dancing into the morning light, and also got at least six hours of sleep every night. Whether that meant a mid-afternoon nap or sleeping through events, rest is important. The cruise is a marathon, not a sprint, so you'll learn your own pacing quickly. The great news is that the cabins are segregated from the party spaces, and people don't roam the halls loudly during normal sleeping hours, so that was never an issue.
How are the food options? There are many dining options on the cruise, many free with your reservation and some paid at a premium. The Royal Caribbean app marks the latter with a dollar sign next to it, but the food in the buffet-style Windjammer has a wide selection of food that accommodates all dietary restrictions. The food is absolutely delicious, and you'll find me returning for seconds or thirds.
3) Party, 'Nother Club, Next Place…
When are the tea dances and evening parties? The first official party is Dog Tag Tea Dance the day after embarkation. There isn't otherwise a set schedule for the remaining parties, but they typically alternate such that you're not going from back-to-back parties without sleep. White Party and the disco tea dance are also usually held toward the end of the week, but all that will be made clearer upon boarding and viewing the itinerary.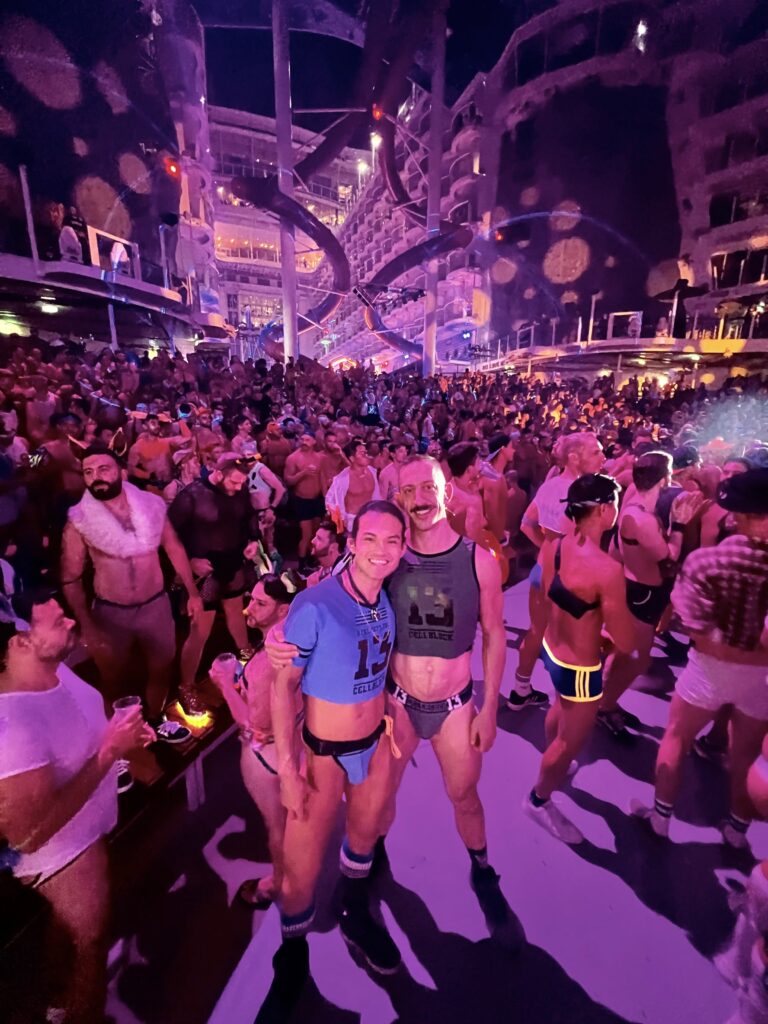 How do I get invited to an afterhours at a suite? I don't exaggerate when I say everyone onboard is very friendly. If you're social and make the effort to meet others, you will easily find yourself invited to multiple afterhours socials. When in doubt, ask around, and you'll discover which are more exclusive because the hosts want to keep it smaller versus the larger ones that want to keep the party going until sunrise.
4) Do's and Don'ts
What services cost extra money and are worth purchasing? Certain packages are available for purchase at a discount before boarding and can be accessed during the check-in process online from a desktop computer.

Beverage Packages are quite variable and highly depend on each individual. I'm not much of a drinker, so I paid a la carte for my cocktails last year and spent less than any of the various packages. Alcoholic and non-alcoholic packages are available, with four options for the latter as well as a package of 20 cocktail coupons:

Refreshment Package (non-Alcoholic) is the all-encompassing option that includes mocktails, fountain sodas, bottled waters, etc. and run at $32/per guest per day, or $256 for the entire trip.
Classic Soda Package (non-alcoholic) includes fountain sodas and refills as well as a souvenir cup at $13.50/per guest per day, or $72 for the 8-day trip.
Water Bottle Packages are available for 12 or 24 (12-oz) bottles and cost $15.99/per package and $22.99/per package respectively.
Cafe Select Coffee Card provides unlimited use and access to any of the 15 specialty espresso-based coffees, excluding beverages at Starbucks stores and cafes, and cost $31/per package.
Cocktail Coupons are available for purchase for $225, with each coupon valid for up to a $14 drink or 2 non-alcoholic beverages at any bar.

Internet Package is great for having access to Wi-Fi and communicating with your friends across the ship to coordinate between parties, excursions, and meals. While it's not necessary, I did find it helpful to stay connected even though you can still easily stay in touch with your friends without it. Pre-purchasing before boarding grants a 20% discount, for $19.99/per guest per day, so for one person that's $160 for this 8-day trip. We selected 2 devices on one account for a discounted cost of $240.




Photo Packages are a great way to receive print or digital copies of your experience. There are marked photographers throughout the ship who take beautiful photos in picturesque locations. There are four packages available at 10, 20, or up to 100 photos, ranging from $150 to $250 per package. There was also an unlimited photo package available last year, which may also be an option upon boarding. While costly, it is a good option if you're not the type of person who remembers to take photos during your trip and are left wanting memories to look back on.

A note for content creators. This should be common sense, but I know we can all sometimes get ahead of and forget ourselves. Royal Caribbean emphasized their social media policy this year: "Please do not post anything explicitly sexual on social media in a public forum or space. Any guest who posts any explicit and publicly visible photo or video will be asked to leave the ship with no refund." Be mindful of public spaces and keep such fun to your cabins. You're not the only person trying to enjoy the cruise, and while your content may not feature others, the issue of consent and propriety in public spaces must be honored.
5) Planning for Next Year
Book through an agent, especially if it's your first cruise. Travel agents are a great resource for longer and more involved trips, and their insights are invaluable. Not only will they better answer these types of questions and more, it's their job. They will also be able to assist you with managing your reservation should you wish to upgrade your room, move closer to friends or have adjoining cabins, schedule excursions, and more. This cruise quickly sells out, and if you previously book with an agent they can help expedite the process of getting onboard if you choose to skip a year and lose your reservation. I highly recommend booking through my friend, Destination By David, who has been a fantastic guide throughout this process!
Re-booking once the cruise is over. Royal Caribbean incentivizes rebooking for next year at the end of the cruise by providing a sign-up form to lock in your cabin and rate with a discount. If you enjoyed yourself and want to return, it's a great way to guarantee your reservation. You can then work with your travel agent to secure a room upgrade or different cabin closer to friends you met this year should you choose to do so.
What are your thoughts on going solo? I know a few people who traveled and continue to travel solo during the cruise, and I think it's a great option if you're more inclined to have a cabin to yourself and can pay the fee. The biggest consideration is that a single occupancy in a cabin means paying for the full price of the room on your own instead of splitting it with another person. Making friends onboard is quite easy, and you'll quickly expand your network and have many people with whom to meet up at the various parties and events throughout the week. We're all here to have fun and create lasting memories, so whether you choose to have a room to yourself or share it, you'll have a wonderful experience!
I hope this guide was insightful, and I look forward to seeing you onboard soon! Please feel free to comment below with additional tips you think are useful or questions I can answer in a future post.