Our first stop in Bangkok was Wat Phra Chetuphon, Temple of the Reclining Buddha. Something I didn't immediately think about was clothing requirements for entering a temple. We visited Thailand in the summer, so I mostly packed shorts and tank tops. Shoulders and thighs needed to be covered, and I worried I would be turned away because I didn't bring anything more modest. It is a sacred, holy space, after all. Fortunately, there were local vendors nearby who sold breathable pants. I bought a few sets to bring back to the U.S., and paired them with flip flops and a shoulder bag to carry our change of clothes.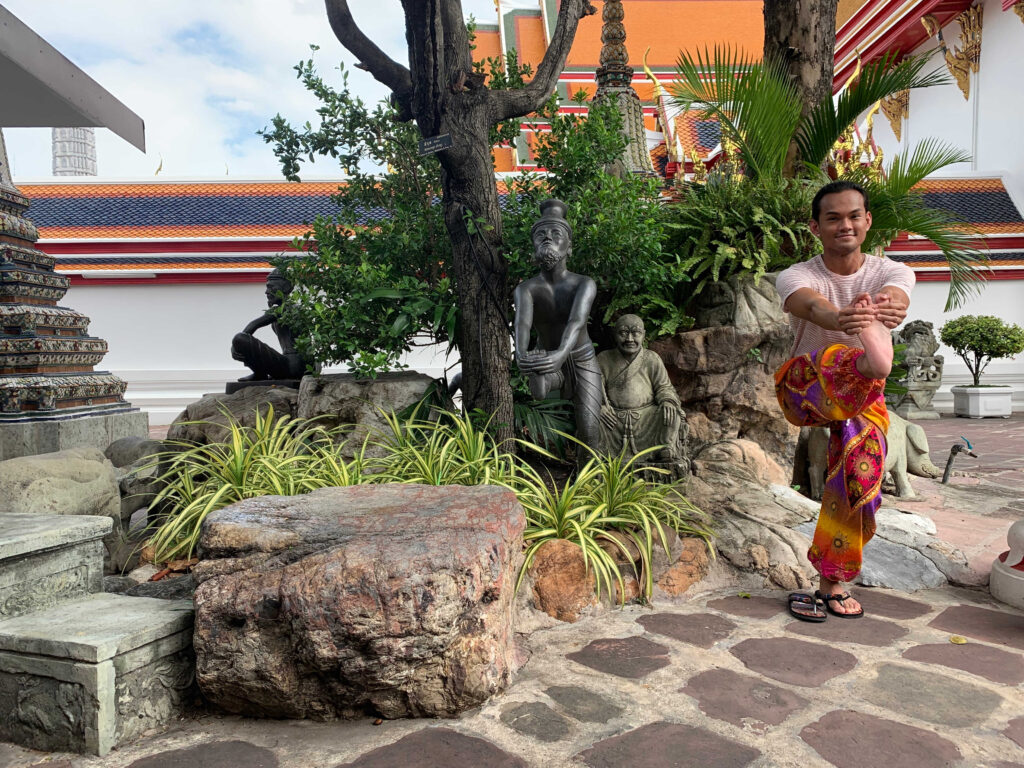 The Temple of the Reclining Buddha is magnificent. The buildings and sculptures are all preserved and maintained to keep their original high contrast colors. The Reclining Buddha was built in 1832 and spans an awesome 46 meters, or 151 feet, in length, with the soles inlaid with mother-of-pearl. There is a nearby Bodhi tree thought to be propagated from the original Bodhi tree where Buddha had achieved enlightenment. It is also located near the Grand Palace as well as another temple.
Near the Temple of the Reclining Buddha and the Grand Palace is Wat Phra Si Rattana Satsadaram, Temple of the Emerald Buddha. Standing at 66cm, or 26 inches, in height, the figurine is carved from a single piece of grey-green jasper, contrary to its namesake. It has been cared for by successions of Thai kings since 1784, revered and believed to possess protective powers. Its history is however surrounded by myth, with its first historical reference in 1434 in Chiaing Rai after lighting cracked open the stucco of wall a shrine and revealed its hiding place. Because these shrines were so close to one another, we were able to visit both on the same day, and devoted another day trip to visiting the Grand Palace.